Bondage Ropes
Bondage Rope for Sale
PinkCherry.com
TwistedMonk.com
LoveHoney.com
ExtremeRestraints.com
What is Bondage Rope?
Rope bondage, rope play, kinbaku, shibari, Fesselspiele, is a type of BDSM that uses a rope to restrain a partner. The sub's movements are restricted as they are wrapped, suspended, or restrained. In Western-style rope play, the aim is to restrain the sub. Japanese style rope bondage focuses on the artistry of rope play.
What are Bondage Ropes Made From?
Bondage ropes are traditionally made from hemp or jute and cut to a length around 25 feet. They may also be made of nylon or cotton. They can be used in conjunction with furniture or other accessories made for bondage. When selecting a rope, consider your partner's needs and pick a material they will not be allergic to.
Types of Rope Material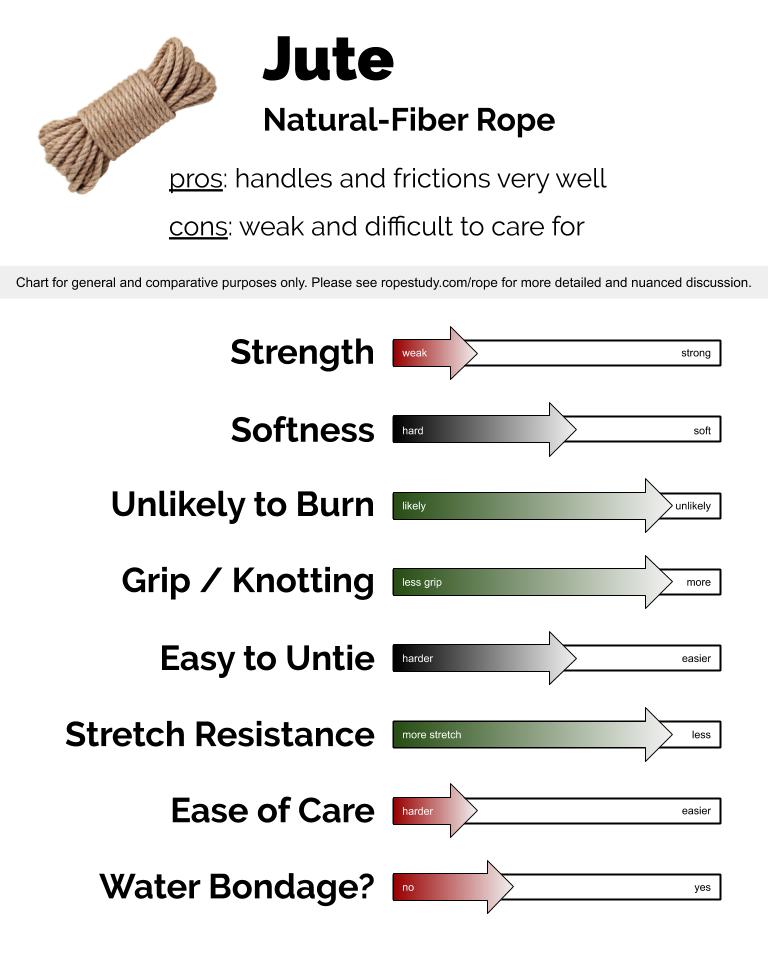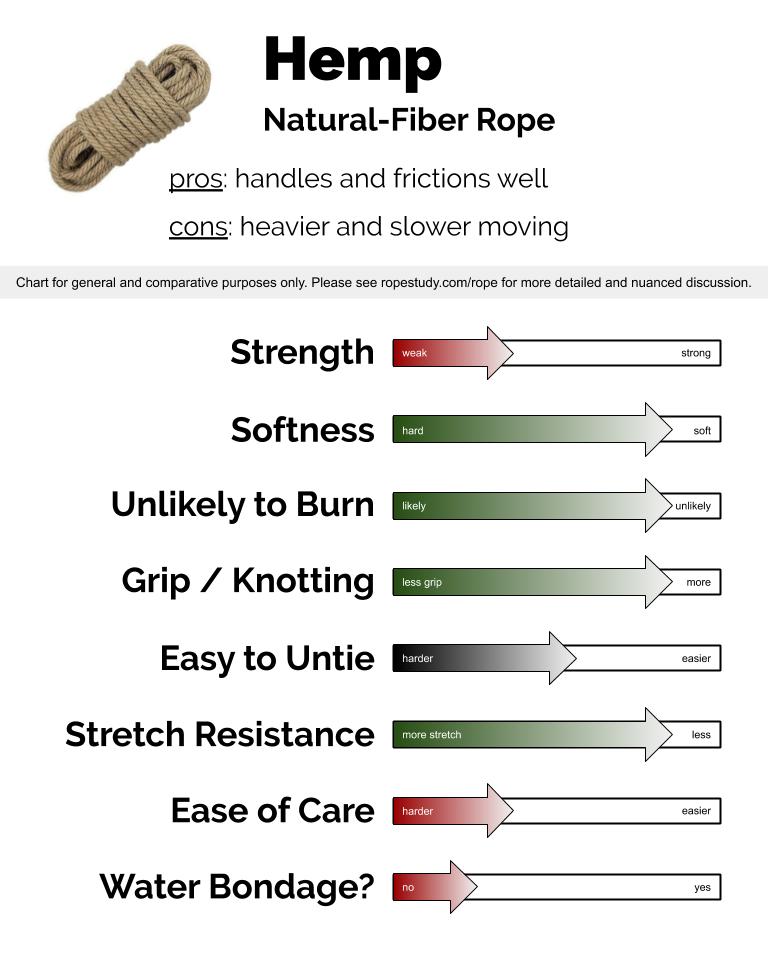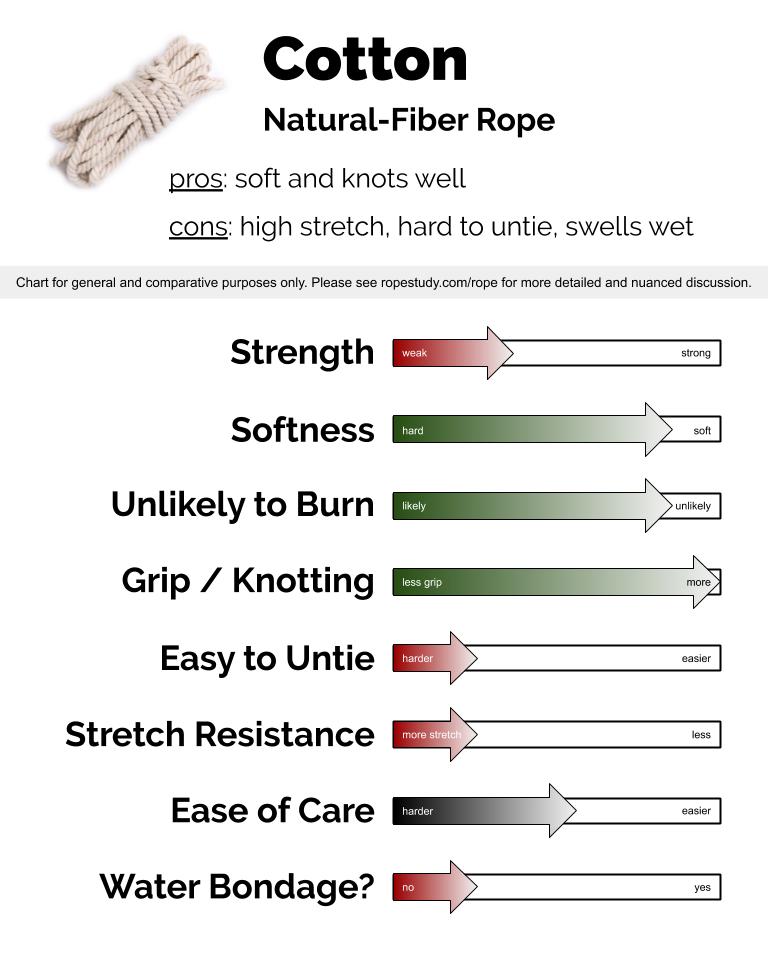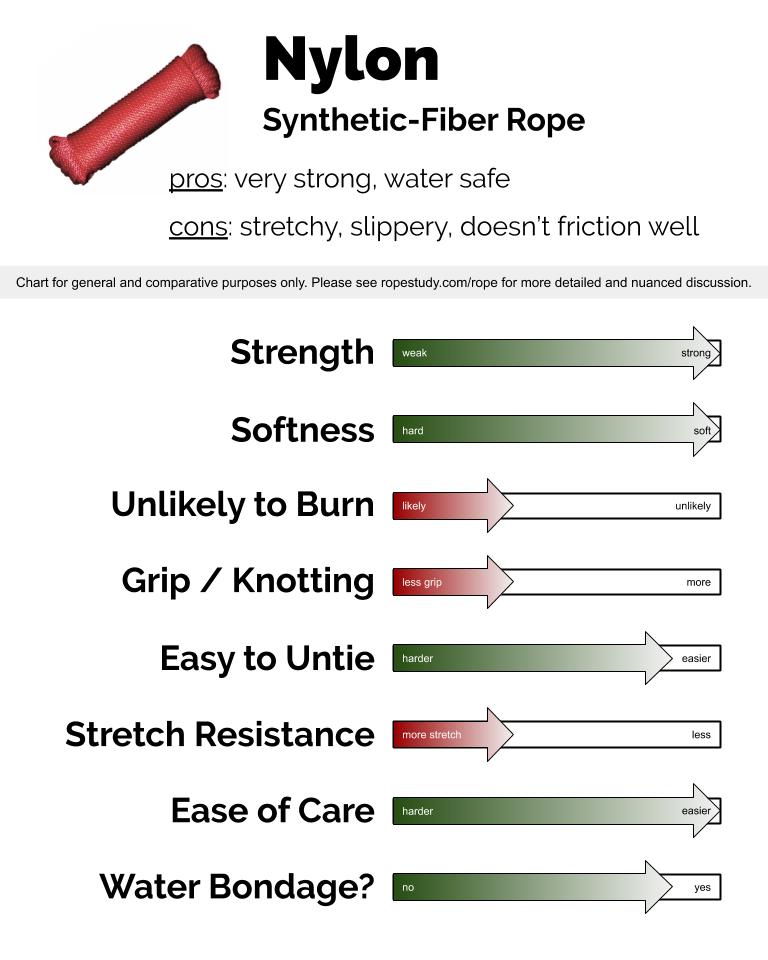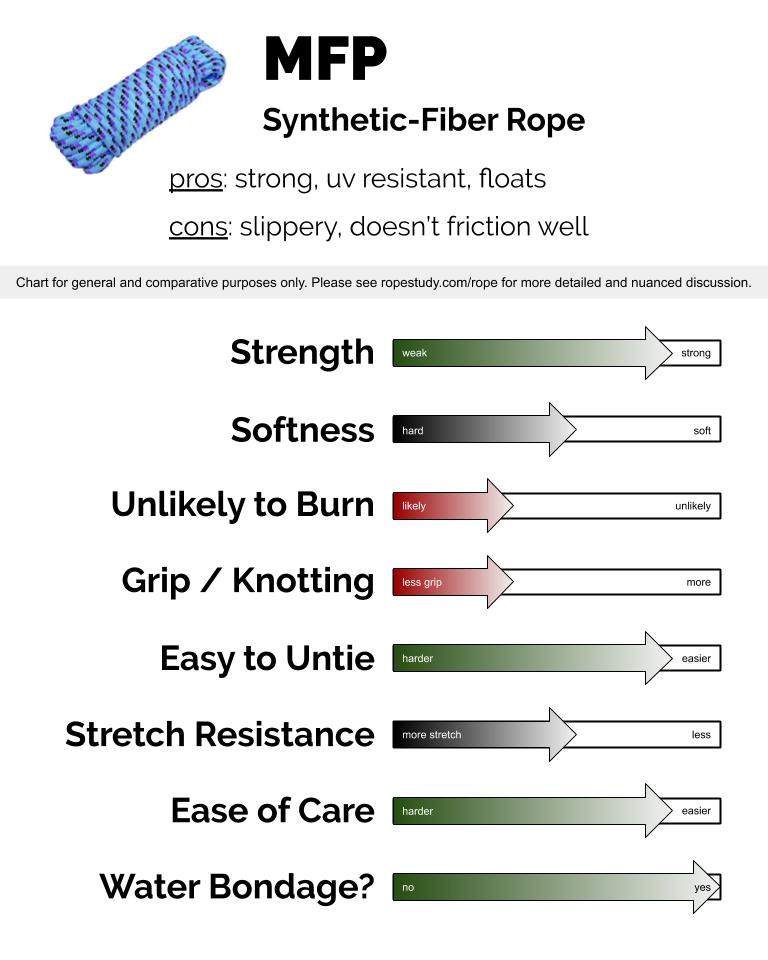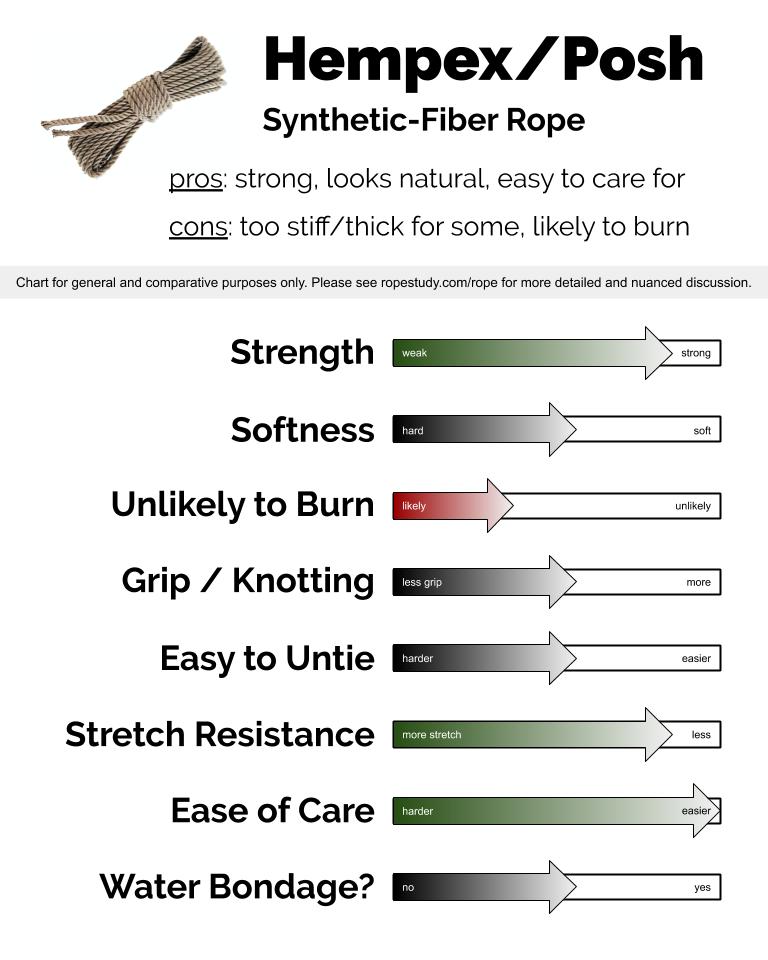 rope guide courtesy of https://ropestudy.com/courses/101/lessons/rope-selection-care/topic/a-brief-overview-of-types-of-rope/
How Do I Use Bondage Ropes?
As with any kink play, consent between partners is essential. Rope burns, compression marks, pinch marks, and knot bruising may occur during rope bondage. With proper use, numbness, loss of circulation, and asphyxiation can be avoided. Safety scissors or safety hooks should be close at hand when engaging in bondage.
Bondage ropes can add a heightened experience to the bedroom and require great trust and communication between partners. Using bondage ropes requires creativity and skill to ensure injuries do not occur. Done correctly, and there should be an exciting exchange of power between the Top and the sub.
Many different bondage rope positions can be used. They include:
Ball tie: A person is bound with their knees pressed against their shoulders in the fetal position. Hands are typically tied behind the back.
Hogtie: A person's legs and arms are tied behind their back, with the rope tied around the ankles and wrists.
Crab tie: A person's elbows are tied to their knees, and wrists are restrained to the ankles.
Shrimp tie: The sub's legs are in a crossed-legged position. A chest tie is used, then a single column tie is placed around the ankles and looped over the sub's neck. The ankles are gradually brought up towards the head.
Rope harness: The bondage rope is tied around the body in a web-like pattern.
Crotch rope: The crotch rope passes between the sub's labia to apply pressure to the vulva.
Frogtie: The sub is placed in a frog-like position with their legs spread and ankles touching the thighs.
Box tie: Arms are placed behind the body, with a rope wrapped around the forearms. The rope is wrapped around the upper torso below the shoulders and above the elbows, restraining the arms and chest.
Captive tie: The sub's wrists are restrained behind the head with the other end of the rope fastened to the waist or legs.
Reverse prayer: The arms are bound behind the back, and hands are positioned between the shoulders.
Spreadeagle: This position can be performed laying down, standing up, or upside down. The sub is restrained at the ankles and wrists and may be attached to anchor points on a wall or piece of furniture.
And more!
10 Bondage Rope Makers
Bondage ropes can be used in creative and pleasurable ways as long as proper precautions are taken. There are many positions with which to experiment. For some, rope bondage has become a form of art. Brands that make bondage ropes include:
Love Honey
CalExotics
House of Dasein
Lux Fetish
Ouch!
Shots Toys
Scandal
Electric Eel
Sportsheets
Doc Johnson
Bondage Ropes Forum
Discuss all things bondage ropes at our bondage ropes forum
Want to edit or contribute to any of the guides on this site?
Contact us
and become a contributor!